Jet Blue Boot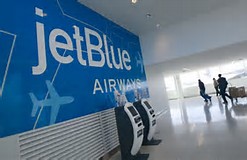 Hang on for a minute...we're trying to find some more stories you might like.
Have you had enough of airplane incidents? Well there's another one with Jet Blue. The Burke family out of New York was on a flight to Las Vegas for a birthday party for his wife. While being on the flight with his wife, two kids, and a cake on board, they had a little argument. The argument was over the placement of the cake.
Mr. Burke placed the birthday cake inside of the cabins over head and was asked to move it. He then moved it into another cabin and was asked to place the cake under the seat in front of him. He said, he obeyed her command and did so. As the flight attendant went back to her crew, another flight attendant lady asked if he moved the cake, and Cameron Burke overheard them. So he walked there and assured them that everything was fine and that the cake was moved. The second flight attendant told him, "Sir, this does not involve you" and told Mr. Burke that he isn't complying to what they're saying. That's when he asked the second flight lady, "Ma'am, have you been drinking?"
Airline says that he was being very rude and slipped out a few curses. That's when the authorities was called and were brought on board. They checked everything and it turned out to be okay but, they had to make a report since they were called. The passengers were deplaned and everyone had to board on again except, the Burke family. The captain refused to have them fly with them. They didn't get to fly but, were given a refund for the tickets. Just follow the airline policy and try to get around any confrontation in order to make sure your flight will be problem-free.
Credit Courtesy Of: MSN