Don't be a Victim of Vehicle Theft!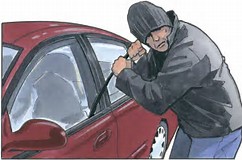 Hang on for a minute...we're trying to find some more stories you might like.
Car burglary and theft are ongoing problems that can be prevented. During one outbreak of car theft in Oxnard, police said that about HALF of the cases could have been avoided.
One simple and common way to avoiding burglary is not leaving valuable items in your vehicle. At least lock valuables away in the trunk, or otherwise out of sight.
Police also offered a few tips to avoid becoming a victim of car theft.
NEVER leave your car unlocked, even for minute.
Never leave your keys in the car even if you think they are really "hidden."
Don't leave your car idling or unattended.
Consider using wheel locks, brake pedal locks and steering locks.
Report suspicious activity to the police. Its as easy as dialing 911.
credit: http://www.vcstar.com/videos/news/2017/05/07/video-don't-victim-vehicle-theft/101315654/ 
photo: Google.com