Compton Teen Accepted Into Harvard University
Hang on for a minute...we're trying to find some more stories you might like.
"There is light at the end of the tunnel", says Elijah Devaughn Jr. when asked how he feels about his acceptance to Harvard University, one of the best universities in the world. "You know, that struggle isn't for nothing."
Elijah Devaughn Jr. grew up in Compton, California, the city being known for the most gun violence and gang related activity for decades. He grew up with only his mother, Sherree Lewis Devaughn because his father, Elijah Devaughn was incarcerated for 13 years. As Elijah Jr. reminisces about his childhood, he says, "I remember the nights with gun shots. My mom running  in my room saying, 'E.J. we need to lay on the floor'. I'm sitting there, laying on the floor, looking into my mother's eyes and it's just us."
Elijah's mother would take him to see his father and used that as a way of teaching him "when you make the wrong choice, you'll have consequences that you have to deal with."
Elijah was enrolled into a private school called Chadwick School. He maintained straight A's and earned a 33 out of 36 in his ACT. He also plays football, runs track, dances, and is in the chorus and in a couple of musicals and plays.
He says his mom is his "superwoman" because watching her and going to school and earning her masters degree "ignited that fire" in him to work hard and see that "God is able".
"Getting accepted into a prestigious university like Harvard, I think means the world. It means that God is able. It means that hard works pays off. it means that, you know, the struggle ends." Here's some advice for fellow students on their path to college: "I kind of live by this quote now, 'Hard works is one thing that ultimately changes lives'", he says, "Just work hard in whatever you do and embrace who you are."
Elijah Devaughn Jr. will be graduating next month and moving across the country to attend Harvard. Congratulations Elijah!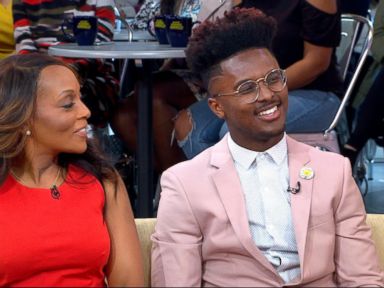 Source:
http://abcnews.go.com/Lifestyle/california-teen-describes-road-compton-harvard-university/story?id=47234974