Cinco De Mayo Thirst Quenchers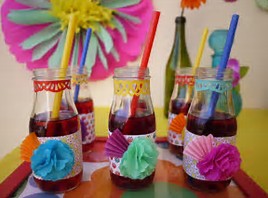 Hang on for a minute...we're trying to find some more stories you might like.
Spicy Watermelon Granita: You will need 1 melon, 4 limes, 3 tsp of sugar and, 1 tsp of cayenne pepper (Hot Stuff!). First, cut up the melon and take out all of the seeds. Then, roll out all 4 of the limes to release the juices. Cut open the limes and pour juices into blender with the melon pieces, sugar, and pepper. After blending it to a liquid form, pour into a dish to freeze in for  3-6 hours. When the 3-6 hours is up, bring it out and scrape it with a fork and put it back in for an hour or two. Serve it however you want once those 1-2 hours is done

P.C: Pinterest

Credit Courtesy: TBO

 Fiesta Fruit Cups: For this you'll need 6 tortillas, 3 tablespoons of melted butter, 3 tablespoons of cinnamon sugar,2 cups of cut up strawberries,1 cup of cubed cantaloupe,1 cup of cubed honeydew,1/2 cup peach preserves,1 large orange, peeled and sectioned,Whipped topping, (optional). Cut the tortillas into 6 pieces, butter brush it, and sprinkled with the sugar. Then put it on baking sheets and bake til light brown. Let it cool or 15 mins. Then, put all the fruits into a dish and stir it up. Then separate it into 6 different bowls with the tortillas and serve it with whip cream. (Optional)

P.C: Pinterest

Credit Courtesy: Taste Of Home

Mangonada: You'll need 2 cups of frozen cubed mangoes, 1.5 cups of mango nectar, 2 cups of ice cubes, 1 peeled and diced mango, 1 lime sliced in half, 4 tablespoons of chamoy, and 2 tsp of tajin. Put the frozen mango, nectar, and cubes into the blender and blend until it's nice and smooth. Then squeeze the lime evenly into 2 cups. Then add two tablespoons of chamoy and 1 teaspoon of tajin into each glass. Then you pour you smoth liquid into the cups and top it off with the diced mango. You can then add more chamoy or tajin on top.
P.C: ImgArcade
Credit Courtesy: Food