New Ram Trucks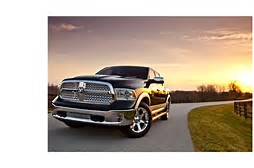 Hang on for a minute...we're trying to find some more stories you might like.
Ram 1500 trucks have been popular lately. Customers love the new look and new style to 4th gen trucks, has a mean look to it. Customers also love the power, spacious interior, excellent exterior shape and, the gas mileage on the truck isn't that bad for a big truck. Ram is coming out with other ram special editions. This includes the all new "Night Edition", "Blue Streak" and, the "Sublime Sport".
First, lets start off with the "Sublime Sport", this is a truck that's limed out!! The truck is covered with a lime green, plus some racing stripes. Ram chose to put 22″ blacked out aluminum rims, which was only 20″ rims before. For this edition, the 22″ rims will only be for the 2×4 trucks, not the 4x4s. The interior will also include that green!! The truck will come in a 3.7 V6 Pentastar engine or the option of a 5.7 V8 Hemi. Should be out by now and is said that there are only 3,000 of these trucks being made, price ranging from $45,000 to $47,000.
P.C: Motor1
Next up is the "Blue Streak" and this truck is just the definition of a clean, mean machine!! This is the Ram Rebel but, with a totally custom paint and a few emblem changes. You have the option of blacking out everything on the truck. You also have the option of a multicolored truck, with the bottom half being blacked out and the top blue. This truck also has the same option as the "Sublime Sport", coming in a V6 or a V8. Pricing will be the same, ranging from $45,000-$47,000. This truck should also be at dealer lots already.
P.C: EquipmentWorld
Lastly, we have the Ram's "Night Edition". This edition has been here for the longest and now, they finally made one for the Ram. This edition just makes this truck look more attractive!! The Truck has a special grill, mean looking headlights and, impressive color choices. You have the option of increasing the power on this truck by having them install a cold air intake, a cat-back exhaust( crazy loud) and, an upgraded air suspension. Price hasn't been released yet.
P.C: Jet
Credit Courtesy Of: Equipment World & GearHeads