Warriors Sweep Trailblazers
Hang on for a minute...we're trying to find some more stories you might like.
Monday evening the Golden State Warriors completed the first round series sweep of the Portland Trailblazers. Golden State was helped by the return of Kevin Durant, who missed the first three games due to a calf injury.
The Warriors seemed to have the game in hand after the first quarter. Scoring 45 points, which set a record for most points in the first quarter. The Warriors were led by 2-time MVP Steph Curry who scored 38 points and 8 assists. Draymond Green also had himself a big game posting 21 points.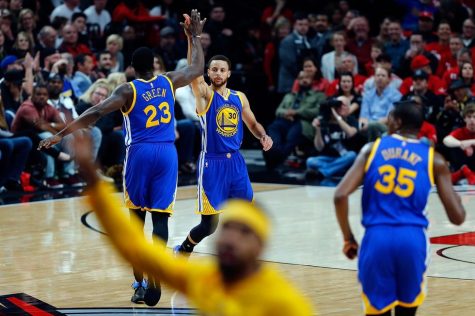 Portland really struggled to get anything going offensively in the game. While star guard Damian Lillard scored 34 points, the rest of the team underwhelmed. Trailblazers standout and potentially NBA's Most Improved Player of the year, CJ McCollum, had a lackluster game; only scoring 4 points in the game.
Golden State have been playing well the past two games without Head Coach Steve Kerr. Kerr has been sidelined with an injury. With the return of Kerr uncertain, the Warriors look to return to the Finals after blowing a 3-1 lead to the Cleveland Cavaliers last season.
After coasting through the first round, the Golden State Warriors will be waiting for the winner of the Los Angeles Clippers-Utah Jazz series. Since the series is tied at two games, the Warriors will undoubtedly have the freshest legs heading into the next round.
Credit: Bleacher Report CNN.com