California Secretary of State Alex Padilla Visits Hueneme High School
Hang on for a minute...we're trying to find some more stories you might like.
California Secretary of State Alex Padilla held a rally at Hueneme High School as part of a wider effort to encourage youth to pre-register or register to vote.
Padilla's parents emigrated from Mexico and raised their family in the working class community of Pacoima, California. His father worked as a short order cook and his mother cleaned houses for many years. Alex attended local public schools and went on to graduate from the Massachusetts Institute of Technology with a bachelor's degree in Mechanical Engineering.
He recently completed a five-year term as a member of the MIT Corporation (Board of Trustees).  Alex is often asked how he moved from engineering to public service. He explains that in many ways they are similar; the goal of each is solving problems.
In 1999, at the age of 26, Padilla was elected to the Los Angeles City Council to represent the same east San Fernando Valley community where he grew up.  In 2001, his colleagues elected him to the first of three terms as Council President, becoming the youngest member and the first Latino to serve in this capacity.
There are approximately 1.5 million English Learners in California public schools. One in four k-12 students and about forty percent of all kindergarten students are English Learners.  Sadly, only about eleven percent of English Learners achieve English proficiency and earn reclassification each year.
Padilla authored a series of legislative measures to identify and implement best practices in English Learner curriculum and instruction statewide.  He also advocated for funding reform and accountability for schools and school districts with high concentrations of English Learner students.
As secretary of state, Padilla is responsible for overseeing both state and federal elections in California.
The state has recently implemented a policy which allows teenagers that are 16 or 17 the ability to pre-register to vote. Once they turn 18, they will automatically be registered to vote.
Pre-registration does not change the voting age, which is 18. Instead, it allows eligible Californians ages 16 or 17 to complete the online voter registration form providing sufficient time and opportunity to get ready to vote. 
Policy Recommendations
Individuals who are at least 16 years old may complete all the necessary steps for voter registration. Pre-registered young people are then "activated" as registered voters when they become eligible to vote at age 18.
These voters should receive notification when their registration has been activated, as well as polling location information prior to the first election in which their registration is active.
The package of information could also include a set of frequently asked questions about the voting process, the date of the next election, and their responsibilities to re-register when changing addresses, if they are in a state without Same Day Registration or Permanent Portable Registration.
High schools can register students at a number of school sponsored events, including high school civics class, or as part of a student assembly or "Civics Day" in which students meet with local political leaders.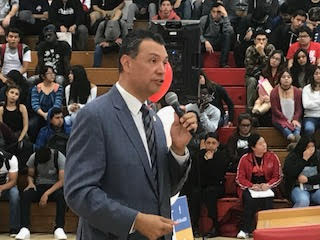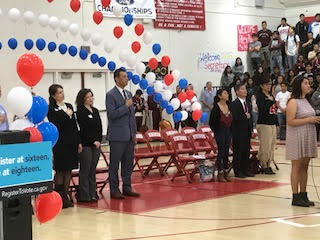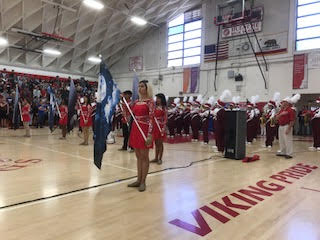 Image source:
Blake Thomas
www.sos.ca.gov