5 Ways To Make Someone's Day Better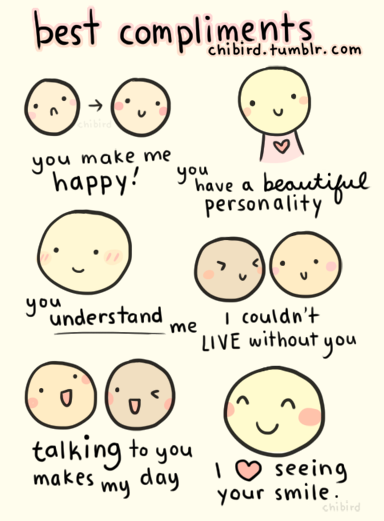 Hang on for a minute...we're trying to find some more stories you might like.
Has someone ever done or said something that made your day a whole lot better? Have you ever said or done something nice for someone just because? Here are 5 ways to make someone's day:
Compliments:
Of course compliments make someone's day better. Like calling them beautiful or handsome and stuff like that. However, have you complimented someone on the small things about them? Personally, I compliment people on the little things they do or say. For example, "I like that when you smile, your dimples pop out" or " I like your laugh" or "I like the way your eyes change colors". Little things like that make people's day. 
Notes or texts:
Leaving little notes around can also make someone's day. When I was in elementary, my friends and I used to have packed lunches and one of my friend's mom used to leave notes on her lunch box that would say ,"have a great day" or "you're beautiful". After that she would immediately be happy if she was having a bad day or if she is just feeling down. My mom sometimes randomly texts me and says," I love you" and it really makes me feel better automatically. So leave a note for someone that shows you care or text someone and tell them something sweet.
Check ups:
Something else both my parents do that make me feel better that I think will make someone else also feel better is just checking up on them. Lately, I've been feeling down and when I'm upset, I tend to go to my room to think so what my parents do is come into my room and ask me how I'm feeling, if I ate, etc. and honestly I really appreciate it. My friends do that as well when I'm upset. I think just checking up on someone and asking them about their day, which I do a lot to people, and showing them that you care really makes them feel better.
Thanking someone for things they've done in the past:
Something that can make someone's day is unexpectedly thanking them for something they've done for you in the past. I enjoy when someone thanks for something I did years ago that I didn't think made a difference but in their lives did. And I thank those who have helped and encouraged me for something they've done for me. I have been thanked by someone from first grade for defending them from bullies and I didn't think it'd make a difference but apparently it did because they stopped after I said something. I felt good knowing I made a difference for someone in a good way. It'd probably make someone else's day if you thank them for something they've done before. I've thanked my teachers from my past for encourage me and helping me. I thank my mom a lot for everything she's done.
Believe and encourage:
Sometimes people don't go to you for advice, they go to you for encouragement or believing in their dreams. For example, when I work out, I usually do it with my friends and when I feel like giving up they start encouraging me and it makes me feel good to know they want me to chase my dream of staying shape. Or when I tell them I want to move to L.A. after high school, they believe in me and encourage that I do it. And I do that as well. I believe in them and encourage them to do many of the stuff they want to do.
Source: