Limited Time Unicorn Frappucino At Starbucks!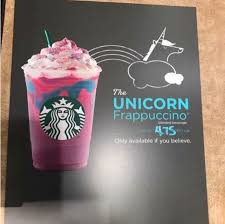 Hang on for a minute...we're trying to find some more stories you might like.
People are going crazy over Starbucks new drink the Unicorn Frappuccino set to be released April 19,2017 and lasts up to until April 23 at participating Starbucks across the country. This drink can either be really unappealing or very satisfying and delicious.
This Unicorn Frappuccino is made with pink powder blended into cream Frappucino with mango syrup and layered with a sour blue drizzle. In a statement Starbucks says " It's mythical namesake, the Unicorn Frappuccino blended crème comes with a bit of magic, starting as a purple beverage with swirls of blue and a first taste that is sweet and fruity."  They stated the more you stir the drink, the color changes and gives this drink a different flavor which turns into a tangy and tart flavor and the more you stir the more the flavor continues to change.
I would like to go try this drink and check to see if any Starbucks in Oxnard are offering this drink. Many people say that this drink is very good and a fun little treat.  I cannot wait to try it out for myself and put this colorful unicorn frappuccino to the taste test.
http://www.vcstar.com/story/money/nation-now/2017/04/18/people-freaking-out-over-starbucks-unicorn-frappuccino/100592430/
Credit: snopes.com, nbc15.com