Huge Asteroid To Give Earth a Very Close Shave on April 19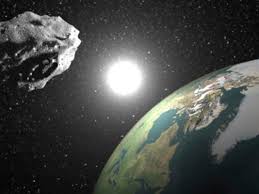 Hang on for a minute...we're trying to find some more stories you might like.
An asteroid roughly the size of the Rock of Gibraltar sped by Earth yesterday, Thursday April 19, at a distance of 1.1 million miles. Less than five times the distance of the Earth to the Moon. The consequences could be really severe and we shouldn't ignore them. If a asteroid like this  were to strike earth it can blast a in pack carter about  10 kilometers wide.
The asteroid hasn't come this over 400 years it will  happen at least over the next 500 years there are smaller asteroids that pass within this distance from earth, several times a week. The last time such a sizable asteroid came this close was in 2004. The next time will happen in 2027.
Credit: http://www.nbcnews.com