S. Korea vs N. Korea: a Historic Women's Soccer Showdown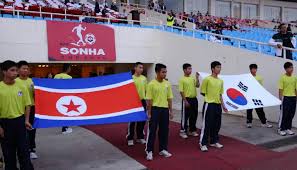 Hang on for a minute...we're trying to find some more stories you might like.
So you believe sports is a path to peace? If so, Pyongyang was the wrong place to be Friday, as the two Korea's on the field fought to a 1-1 draw. But in the stands, more than 40,000 fans made clear the game didn't reflect a thaw in deeply troubled inter-Korean relations.
There was the sound of tens of thousands of voices singing in praise of the North Korean fatherland. There were Pyongyang University students shouting slogans in near-perfect unison. There was a low rumble of discontent any time a South Korean player touched the ball. And from the South Korean fans? Well, if there were any in Kim IL Sung stadium they were keeping very quiet, both teams played the game hard, and at the end of the game it was a tie between both teams.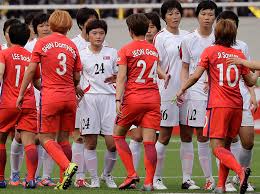 The North Korea trainer said too the press, "Our players showed their strength, and their ability to attack the South Koreans," Team never gave  up, he also said "I have no feelings about the South Korean players," he said. "I only wish our players had scored more goals."
The South Korean trainer commented, "We played a good game vs North Korea, and the team never gave up."
In better days, there was fairly regular contact between the two Korea's, "From South Korea bench one the players said as long we didn't loses vs North Korea we are happy, a tie for us  is like a win."
Credit: https://www.usnews.com