Interesting Facts About Giant Pandas!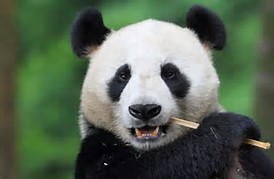 Hang on for a minute...we're trying to find some more stories you might like.
The Giant Panda is found in dense bamboo and coniferous forests. They like water and prefer to stay near streams.
The Giant Panda has large, distinctive black patches around its eyes, over the ears, and across its round body. It also has a small tail – about 4 to 6 inches. They grow to about 59" tall and weigh 220 to 331 lbs.
Despite their round figure, they are good at climbing trees and do so to escape danger or look for food.
Giant Pandas are herbivorous eating mainly bamboo shoots. An adult eats about 26 to 84 lbs of bamboo in a day. They spend 12 hours on eating and do this very fast because their bodies digest only about a fifth of what they eat.
They have enlarged wrist bones which act like thumbs to help them grip the bamboo whilst eating.
They are shy solitary animals that briefly come together only for mating.
Each adult defines a territory for itself and the females are not tolerant of other females in their range.
They have low reproductive rates. The cubs usually stay with their mothers for nearly 18 months.
Giant Pandas do not have permanent dens and when the weather turns cold, will move to another location with warmer temperature.
They do not hibernate unlike other bears living in temperate climates.
For more visit:http://www.10-facts-about.com/