Tony Romo Leaves Football for Broadcast Career
Hang on for a minute...we're trying to find some more stories you might like.
The Dallas Cowboys have released quarterback Tony Romo, who will become a NFL analyst for CBS.
Although, Romo has accepted the CBS job, he hasn't came out and said he's retiring.
Romo said the Houston Texans were at the top of his wish list if he were to continue playing, but his CBS offer was too good to pass up.
The decision based on Romo's health. He has only played 5 regular season games the past 2 seasons. Romo, who turns 37 this month, was held back by collarbone and back injuries.
Romo holds team records for 300-yard passing games (46), games with multiple touchdown passes (79) and consecutive games with a touchdown pass (38). In 2012, he threw for a club-record 4,903 yards, and on Oct. 6, 2013, against the Broncos, he threw for a franchise-record 506 yards. He has the NFL record with a touchdown pass in 41 straight road games. Romo is a 4-time Pro Bowler.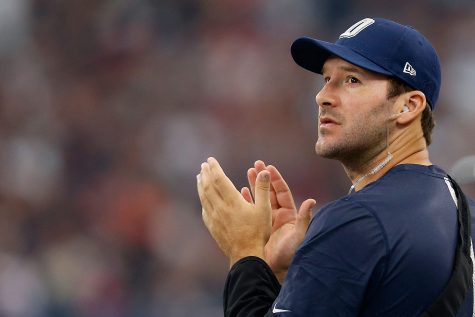 The Cowboys' move to make Romo a post June 1 release designation softens the blow against the salary cap this season.Instead of counting $24.7 million against the cap in 2017, Romo would count $10.7 million this year and $8.9 million in 2018. The Cowboys would gain $14 million in cap space this season, but it would not become available until June 2.
As the network's No. 1 color commentator for the NFL, Romo will work Sunday and Thursday night games with Jim Nantz.  Romo will also work CBS' coverage of Super Bowl LIII in February, 2019.
CREDIT: http://www.espn.com/nfl/story/_/id/19073822/dallas-cowboys-qb-tony-romo-leaving-football-broadcast-career