Spurs VS. Cavs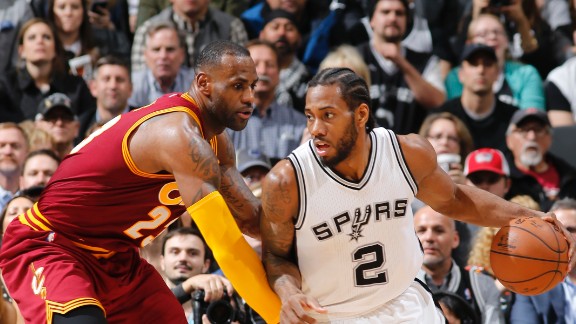 Hang on for a minute...we're trying to find some more stories you might like.
The San Antonio Spurs dismantled the ailing Cleveland Cavaliers. 103-74 on Monday night in a showdown that turned into a major let down for the defending NBA champions. Kawhi Leonard scored 25 points during the game, and LaMarcus Aldridge and Pau Gasol added 14 points apiece for the Spurs, who won their fifth straight. Cleveland (47-26) dropped its second in a row, set a season low for points and fell a half-game behind Boston (48-26) for the top seed in the Eastern Conference playoffs.
Cavaliers star, LeBron James, was injured late in the third quarter after taking an elbow to the base of his neck. He remained on the bench for a while receiving medical attention, then headed toward the locker room and didn't return to the game. James finished with 17 points, eight rebounds and eight assists in 29 minutes. His status was not immediately known. Cleveland has been out of sync recently, losing three of five, and those struggles only got worse against San Antonio. The Spurs led by as many as 33 points to the delight of the sold-out crowd.
The Spurs held the Cavaliers scoreless for three minutes after San Antonio coach Gregg Popovich was issued a technical foul during a timeout with 6:38 remaining in the first half. Leonard hit a right-handed runner as the second quarter closed to give the Spurs a 64-40 lead.
San Antonio (57-16) is two games behind Golden State (59-14) for the league's best record entering a home showdown with the Warriors on Wednesday. Cleveland opted to play its stars rather than sit them for rest, but the trio of James, Kyrie Irving, and Kevin Love, sat out the fourth quarter of its second route in the past two weeks.
website: http://nba.nbcsports.com/2017/03/28/kawhi-leonard-scores-25-as-spurs-dismantle-ailing-cavaliers-103-74/