Strongest Animals In The World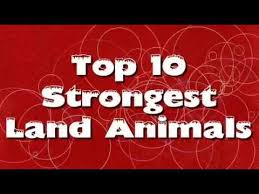 Hang on for a minute...we're trying to find some more stories you might like.
These are the strongest animals in the world based on strength to weight ratios, many small organisms are much stronger than large animals:
Eagle: The eagles have powerful feet, large hooked beaks and sharp talons. It lets them to lift off preys that weighs four times their own weight. Eagles are known for hunting foxes, deer, and wildcats. They are also a symbol of power. There are 60 different types of eagles in the world. Eagles can fly up to a height between 10000-15000 feet, and they use their feet too catch their food. These fearless hunters have stronger vision the humans. Their eyes have more sensitive cells, so they can easily spot their preys and enemies from long distances.
Grizzly Bear: The Grizzly bear is also a massive and  powerful  animal in the world. Grizzly bears can reach a maximum height of 2.5 meters (8.2 feet), and they can weigh up to 350 kilograms (771.6 pounds). The grizzly has a strong head, 6 inch claws, a muscular hump, and strong teeth with a bite force that measures up to 1200 pounds per squire inch. That can crush a bowling  ball! The Grizzly bear can get irritated very quickly. They will attack any animals that seem as a threat to them, this animal can beat any animals on a fight.
Tiger: This is this the largest member of cat family. They inhabit swamps, rain forests and grass lands across Southeast Asia. There are ten 10 recognized sub species of tigers in the world. An adult tiger can measure up  to 75-91 inches  in length, and weigh up to 306 kilograms (674.6 pounds). The tiger has a powerful jaw with an average of 30 teeth in total. Tigers are fearsome hunters that can carry up to twice of their body weight.
 Gorilla: The gorilla is one of the  largest primate in the world. They have been know for their phenomenal strength. The gorilla can reach over 1.75  meters and weights up to 200 kg. Compared to human beings, the arms of a gorilla are very large and strong the can carry a weight up 2 tons. That is 10 times more then their body weight. In fact an adult male gorilla is 15-20 times stronger than a human.  The arm span of adult male gorilla measures between 2.2 – 2.6 meters. 
Credit: https://themysteriousworld.com