Inside Hueneme ASB
Hang on for a minute...we're trying to find some more stories you might like.
One thing that has been a highlight of my high school years is being involved in ASB.  ASB is a great way to be involved in all school activities, and meet new people. Not only do you stay busy but you have fun.
In ASB we do more than just make posters.  We plan all the rallies and most dances that happen on campus, as well as other events like viking fest.  There is a lot of planning that goes into having a rally and a dance which takes up most of our week days and even some weekends. I have been in ASB for the past 4 years now and each rally and dance is different: different theme, games, performances. In  ASB you never know what to expect.
I took the time to interview some others in ASB to see what some of their highlights were while in the class. First I talk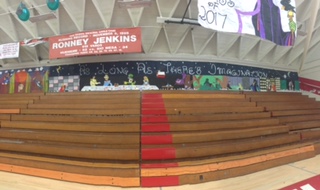 ed to ASB president Erica Ramirez I asked what her favorite part about being president is and she responded with "I like that people can come up to me for help, it makes me feel useful.  It also kinda all feels like a family."  I can agree with Erica about being a family no matter how long you've been in the class you're welcomed. As well as talking to a 4 year ASB student I also talked to a newer student Cesar Hernandez.  This is his first year in the class and he says "seeing how you guys were all a family and so involved made me want to join." Lastly how could I not talk to our director Ms. Buen, I asked her what her favorite part about being ASB director is and she gladly said" oh gosh! Its never the same different year different ideas every year that is what makes it exciting."
You don't have to be a freshman to join any student is welcomed! You can get an application at the end of the year or beginning of next year just talk to Ms. Buen.  I highly encourage anyone to join ASB it is such a great experience.