Get To Know An Upward Bound Student: Luis Poblano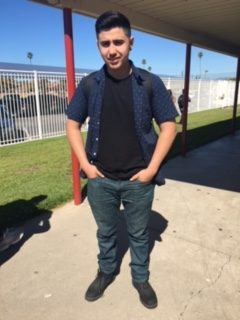 Hang on for a minute...we're trying to find some more stories you might like.
Luis Poblano is a senior here at Hueneme High who is very well known by most teachers because he is very outgoing and energetic but gets his work done when he needs to. He is also involved in a famous program here in Southern California: California Lutheran's Upward Bound. Luis has been involved in this program since his sophmore year and I wanted to know a little more about the program from a direct student, and also about himself.
I wanted to know what first interested him in the program and he said "My brother had done it before and he would always tell me he'd meet new people and the program helped a lot with his everyday classes." When asking what he thought he benefited from the whole experience, his answer was " I was benefited in many ways but one way it really impacted my life was helping me with my social skills because we were forced to meet new people who I now consider my brothers."
Upward Bound seemed to take up much of his time, but what does he do when he does have time to himself?  "I tend to help my dad out whenever he needs it since he is a mechanic" said the senior student, " But once I'm done with all that I enjoy going to the gym." When asked the challenging question of nutella or peanut butter sandwich he quickly answered nutella.
Lastly, his advice to incoming freshman would be to "Remember everything counts, even your freshman year."