Newest Teacher on Campus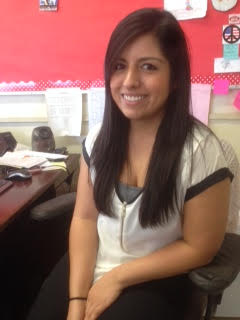 Hang on for a minute...we're trying to find some more stories you might like.
This year at HHS we have many new teachers that a lot of students do not know about I have decided to sit down and talk to Ms. Perez.  If you do not know who she is then here is a little about her.
This year is the first year that Ms. Perez is teaching here at Hueneme High School and is a 9th grade English teacher. She also is the adviser for the schools dance team. One saying she had for starting off the year is " Make the most out of everything. " she picked this quote because "she really did not know what to expect with it being her first year teaching. "
If she could say how her first year teaching at Hueneme has been she would say " so far so good , definitely happy being here" as for her students , Ms. Perez says " I love my students they are the reason I come to work every day happy, definitely happy to be a teacher to all them." A question I asked was if you could change something about the year what could you have done? " Nothing, so far everything is going great as the year goes on." Another question asked was why did she pick 9th grade English literature? she answered glad fully "that's what they gave me so that's what I'm doing."
When asked where would she see herself in 10 years she responded with. " Still here room 23 at Huneme high." I can tell from her answers that she enjoys teaching very much.  If she could pick a best memory so far that she has made at this school she says that " There are to many to count , I love my job. There is a new favorite almost everyday!" In her opinion of Netflix over Hulu , she would without a doubt pick Netflix. If the choice were between Rom-com's or indie films the winner in Ms. Perez's heart is the faithful " Rom-com's I'm a hopeless romantic." In another case , it was a tough landslide decision if it came down to waxing or threading her eyebrows , she'd chose waxing she said " Oh, waxing of course. I've been waxing my eyebrows since I was in the eighth grade."
I very much enjoyed sitting down and talking to Ms. Perez at the end of our interview she said " there is no place I'd rather be than at HHS!"